© 2015 White Line Screen Printing
White Line Enterprises, Inc.
White Line Enterprises, Inc.
White Line Screen Printing
Proud Member of



The minimum order is 1. Yes, that's right. If you place an order with us you have to order at least one. Of course, discount levels come with quantity.

The standard turnaround is 7-10 business days, but if you need the garments sooner than that, just give us a call and we'll see if we can accommodate your needs. Rush fees may apply.

Yes, you can view our favorite supplier's catalogs here online and even add the items and quantities to the shopping cart for a quote. There is also an online flip catalog for the sublimation items but you'll have to call or email for a quote.
Printing pricing is affected by 4 major factors:
1) The color of the t-shirt.
2) The QTY of shirts ordered.
3) The # of locations printed.
4) The # of ink colors in each location.
All pricing is based on these factors, so all quotes are completely custom.

We can create or reproduce almost anything. Whether you have a specific idea for what type of artwork you'd like, or if you have no clue but you know you want t-shirts, we can help you! More samples and design ideas will be available soon.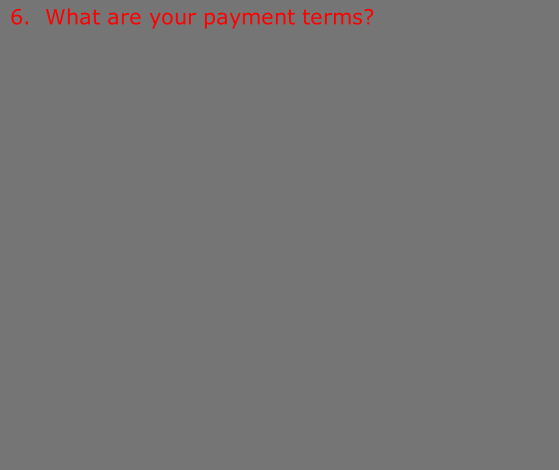 At White Line Screen Printing, we are dedicated to making your experience from beginning to end as easy as possible. To simplify payment for anything from t-shirts to ink pens to banners to shot glasses, we have 3 basic options:
1. Prepay – The first option would be to prepay the full amount of your invoice.
2. Deposit and Pay at Pick Up – If you choose door number 2, you would be required to pay 50% of the invoice at the time you place your order. When your order is complete and ready for pick up, you will then be responsible for paying the balance remaining on the order.
3. Net 30 - Net 30 is a house account in which your invoices are billed at the completion of your order. The best thing about having an account with us is that you have up to 30 days from the invoice date to pay them in full. This is really handy for customers that plan on placing multiple orders or are placing large orders, especially when your cash flow gets tight. There are some steps involved with this option, so if you do go with the house account, give yourself enough time to fill out the necessary forms and do a credit check.
We accept Cash, Personal & Company Checks, Online Check Payments, PayPal and most major Credit Cards. We do give a 3% discount with paid in full with cash or check, when the order is placed.

With over 30 years of experience we are here to help with your design needs. Simple layouts and adjustments to existing art are typically at no charge.
Usually the normal price breaks for traditional screen printing are at 24, 48, 72, 144 and 576. Please call for larger orders.

Yes; we email a proof for your approval before printing. Tell us what you like – or would like to change – and we will revise the proof and resend it to you for your approval. You are also welcome to view it on screen in the store.

Once the order is placed, our production schedule is 7-10 business days. We accommodate rush orders daily, many times in 1 or 2 days; however this is not always possible due to the amount of current jobs. Rush service may incur additional fees.

The least expensive t-shirt we offer is white with a 1-color print on 1 location. Price then varies with quantity ordered.

After the order is printed, the press is cleaned and screens are reclaimed. However, your art is kept on-file and available for use on future screen printed orders.

Yes; as long as they are receiving the same imprint, in the same location, with the same ink colors. You can change ink colors during the print run but there is a $5 charge for every ink color changed.

Halftones are a pattern of tiny dots that can emulate different shades of color, such as black and gray, which allows more colors in the design without adding more screens.

The best way to get the most current catalog is by viewing them online. The links are shown on the Screen Printing page and the Catalogs page.

We prefer the following formats; but we can work with just about anything. EPS, Adobe Photoshop CS5 (.psd) , Adobe Illustrator (.ai), Corel Draw-Version x7, PDFs. Also see our section on Artwork Requirements.

No. Each separate design or artwork must be ordered separately.

No, we only collect personal information for the purpose of processing your order. On occasion, we may send special discounts, offers, news and announcements by email to our subscribed customers and users who have either previously made a purchase and/or saved a design on our system. Please use real and active email addresses when using our system. Any and all undeliverable or fake email addresses and corresponding saved designs will be deleted from our system. Credit card information that you enter during your purchase is not saved on our system. We do this to protect you from Identity Theft and from non-authorized purchases.

If you wish to cancel your order there is a 25% restocking fee. Each order that we receive is a custom order. We don't stock the garments in house therefore if your order is canceled after we have placed an order for your garments with our suppliers the garments will have to be return. Our suppliers charge a restocking fee on returned merchandise. This fee is passed along to you. There are No Exceptions to this policy. A refund will be issued less any costs already incurred up to the date of cancellation.